Snow Condtions
Now that we are in the Fall Season, Its alway's safe to call the facility (click on locations above for phone number) and varify your start times. Drive safe!
About Northwest Indoor Soccer Referees
Welcome to NWISR
Northwest Indoor Soccer Referees provides management services for leagues, tournaments and sports arenas. This includes referee assignment and coordination, payroll management, referee training, game scheduling, and on-site coordination and oversight.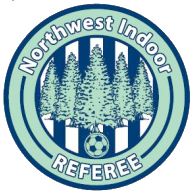 Services for Facilities, Leagues, and Tournaments
Information and resources regarding our services for facilities is currently under development. This will include detailed information about NWISR services as well as information for existing customers.